Zurück

Annemarie Gugelmann
29. June 2018
This Year's User Research Conference in London
There were a lot of great UX topics at this year's user research conference in London, but what was the best part? The speakers packed the conference with so much helpful information that I incorporated directly into my workflow and applied to current projects (no time-consuming prep time required). Here are 5 lessons I picked up listening to thirteen great talks:
LESSON 1: USE METAPHORS
Paying attention to a user's subconscious associations (metaphors) gives us richer information to consciously interpret and use in our designs.
Cyd Harrell's talk on "Metaphor and Synthesis" was immediately helpful in my work. Cyd says that the paralysis that happens to user research teams "is about staring at this tide of words and getting stuck" after doing fieldwork. Design researchers confront a huge amount of data, and the most approved way to deal with this information is to reduce it into numbers and drawings. Both are great tools, but they're a bit black and white. Metaphor is another way to condense user research into understandable terms.
Metaphor is a figure of speech that makes an implied comparison between two things that are unrelated but share characteristics. We often talk in metaphors, and it's a helpful way to bring life and character to descriptions (Cyd also points out that there are dead metaphors, or overused metaphors that have lost their original imagery). Luckily for user researchers, qualitative datasets are full of both living and dead metaphors.
After showing us some great examples of her work in this area, she urged "all of us to develop a metaphorical skillset as user researchers." So, that's what I've started to do. Cyd's talk made the activity fun and interesting, so it didn't seem like work at all.
This week, I transcribed interviews I did for a recent project, and I found a few metaphorical gems that I hadn't picked up on when conducting the interviews. A person described, for example, how a homeowner wants to monitor energy use in a recent interview. "I want to have a small garden where I can see how this and that works," he said. "It's a space where I still, to a certain extent, have influence over things." This idea of energy use is a great way to start when thinking about what people want, and my ideas expanded based on his metaphor.
LESSON 2: OVERCOMMUNICATE** AND BE OPINIONATED**
The difference between good or great research often isn't the execution of the work itself, but what you do before and after it.
Paul André from Facebook London's user research team spoke on "Beyond Good Research." He points out that the way we present ourselves and our work can make the research itself stand out or become neglected. One important thing to do when going beyond good research is to over communicate results and discoveries.** User researchers should "spend as much time communicating the outcomes, as you did executing the work."** This is a great tip that can be directly applied to any project.
Part of communication is also being opinionated. Product sense "means combining insights with strong points of view." It's always helpful to remember that you have a voice, and that if you've done research, you need to voice an opinion about it.
LESSON 3: PERSONAS ARE THE GHOSTS OF YOUR PARTICIPANTS WALKING AROUND THE OFFICE AT NIGHT
Thanks to Tom Ablewhite for the wonderful metaphor above in his talk on "Deliverables For Designers."
Tom also mentions the importance of clear communication with clients. UX research "can be explosive, you must warn your client what is going to happen." This means, before a client goes into a user testing session, tell them what may happen so they aren't surprised when a user sees or uses the product in a very different way than expected.
LESSON 4: QUANTITATIVE AND QUALITATIVE DATA COMPLEMENT EACH OTHER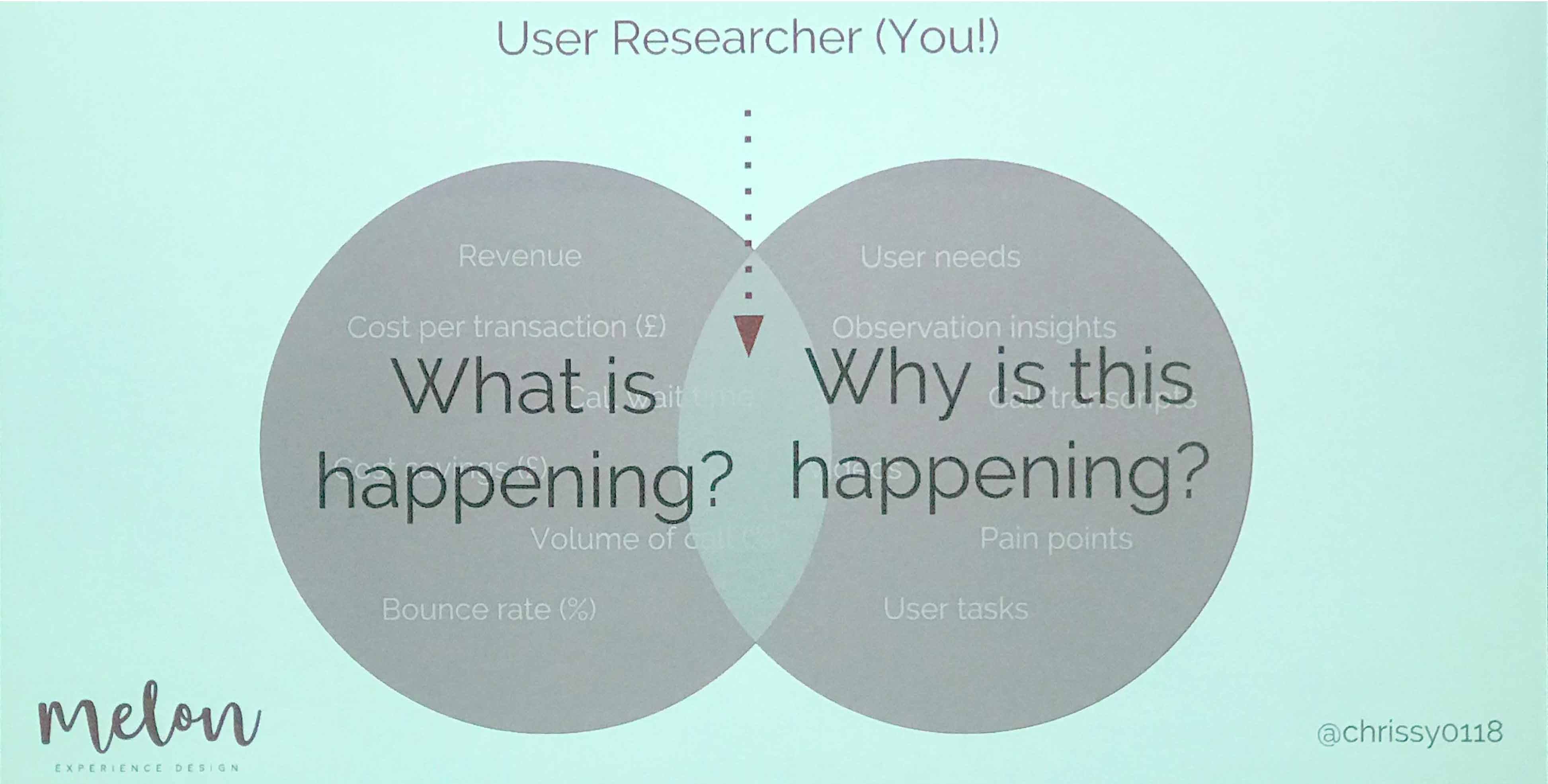 The two concepts shown here from Christina Li's talk on "Adventures in UX Research and Data" were very helpful to me. The top image is a venn diagram illustrating the importance of user research and how it can be explained to clients. The sentence below the venn diagram helps communicate and articulate why a specific action in user research is important to do. These tools help the user research designer explain what they do and why it's important.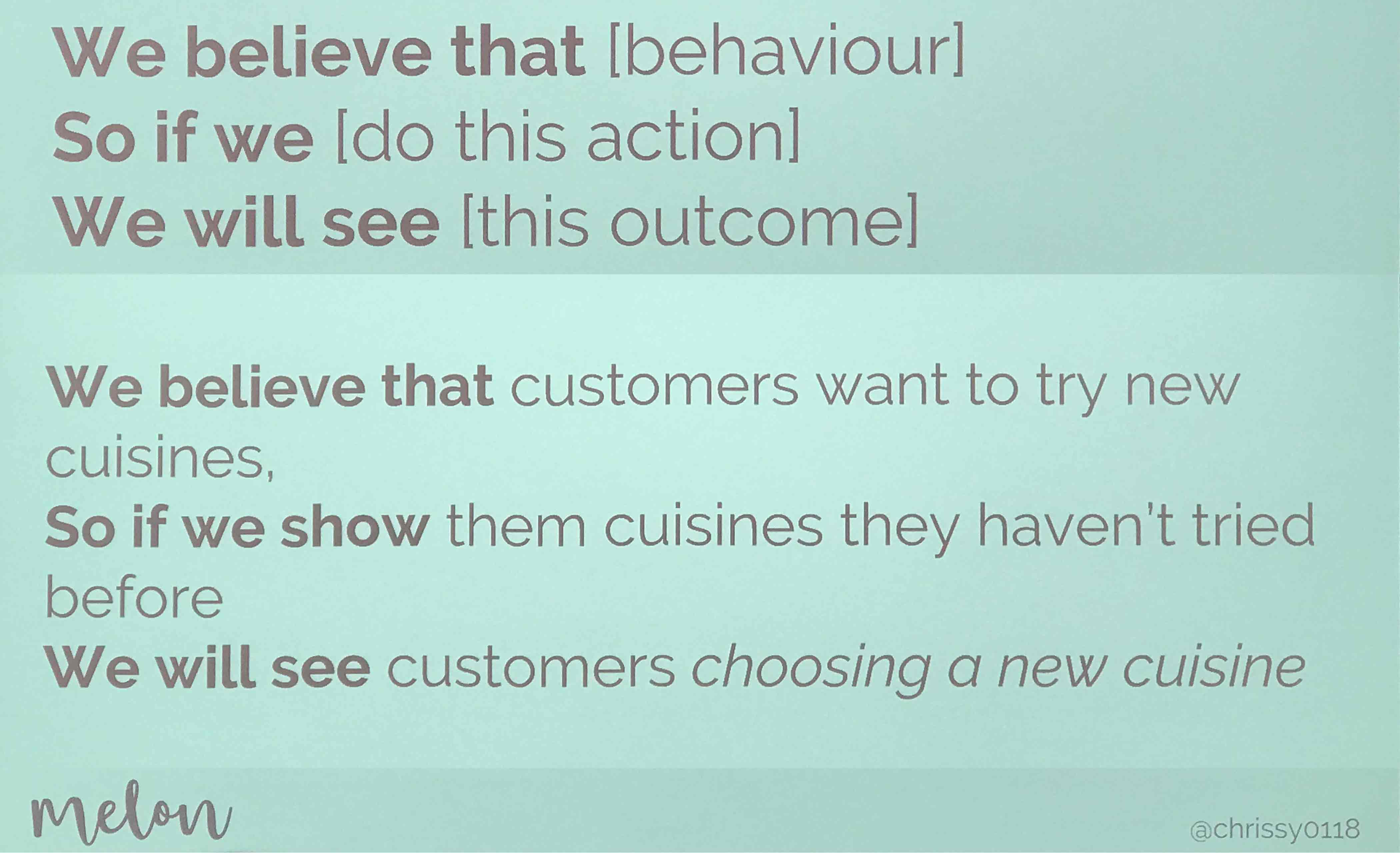 LESSON 5: UX RESEARCH EMPOWERS PEOPLE
Research provides insight that helps reduce uncertainty and empowers people to make better, more informed decisions.
In Laurissa Wolfram-Hvass' (Director of Research at Mailchimp) talk "Is your research usable?", she discusses the importance of communicating to the "end users" of our research. Not only do we need to know who we are communicating to, but we also need to know how to communicate what UX Research is and what we have researched.
Thank you to everyone who presented, and thanks also to the people that posted pictures of the talk on the Twitter feed (I used some of them in this post).